Mobile Network
Fixed Network
Margins under pressure
In most telecom markets average revenue per user (ARPU) is declining due to:
New operators entering mature markets,
Easier switch due to portable phone numbers,
Shorter contracting cycles,
Flat prices for voice, data and TV services,
Regulation limiting interconnection prices.
Price is now the key buying factor for telecom services.
On the other hand, costs must now be taken into consideration when calculating customer life time value and profit contribution:
Direct costs: acquisition, interconnection, roaming
Peak-load usage impacting service quality and driving need for extra capacity investments due to crowded radio access in many areas
Lifetime value optimization becomes a critical business challenge
Optimizing every customer lifetime value thanks to accurate pricing is now a critical challenge for telecom operators in both consumers and business segments. The Open Pricer Suite™ permits to analyze, simulate and optimize lifetime value, micro-segment by micro-segment and deal by deal.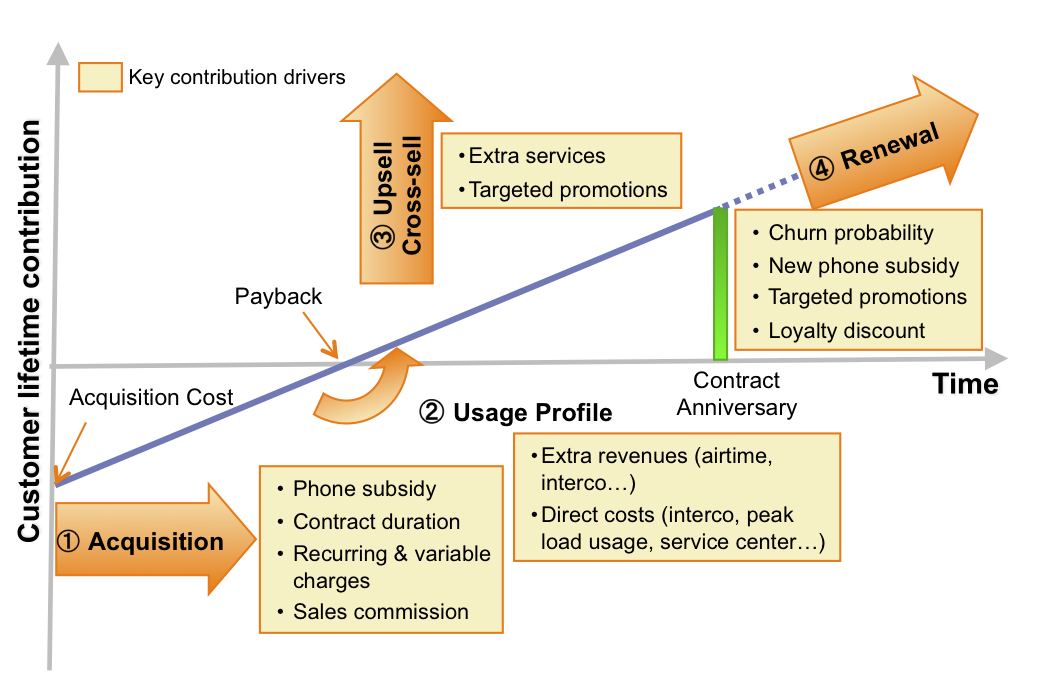 Benefits delivered by Open Pricer
Maximizing contribution, not only ARPU
The following figure presents the analysis of the monthly contribution for a given customer. As shown the challenge is to maximize contribution (i.e. total charges minus incremental costs over the time of the contract), not average revenue per user.