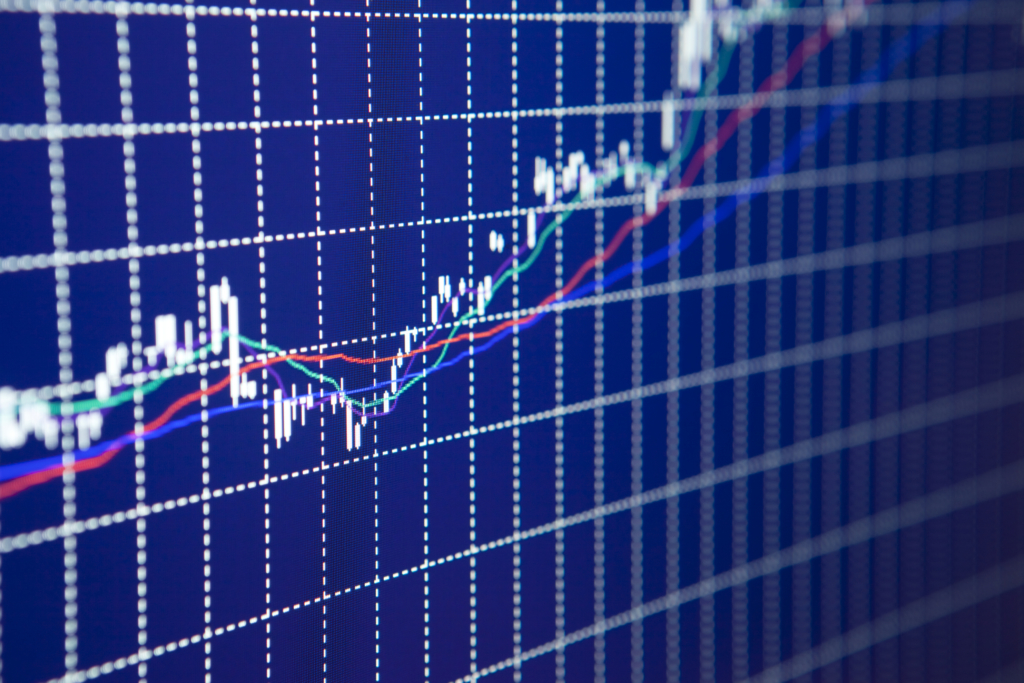 In this article, we explain the principles of dynamic pricing and why parcel networks need to revisit their current static pricing models and prepare for a transition to more dynamic models.
Parcel networks are still exclusively using static pricing models. These models are often complex (with rates varying by origin zone, destination zone and weight band), but they are based on average costs and average customers' willingness to pay (WTP) and they are generally updated on a yearly basis.
Examples from similar industries demonstrate that it is possible to use dynamic pricing (DP) to optimise network capacity utilisation with a typical impact of 2 to 4 points in additional net margin. This article presents how DP could be implemented by parcel networks and what are the prerequisites. Dynamic pricing will give a key competitive advantage to first adopters in the industry: in particular the ability to implement flexible and yet economically viable delivery models for e-commerce.
What is dynamic pricing and what are its benefits?
Dynamic pricing is relevant to optimise the utilisation of fixed capacity in situations of variable demand.
Its principle is simple: increase prices where/when demand is higher than capacity and use price incentives to increase demand where/when capacity utilisation is low.
Dynamic pricing has been successfully implemented by airlines, hotel groups and advertising. Air cargo, shipping lines and, to a less extent, road carriers and freight forwarders have adopted dynamic pricing models with rates being adjusted on a daily or even on a transaction basis.
As a simple example, Figure 1 presents the variation of capacity utilisation by day of week for an air linehaul operated by a parcel network.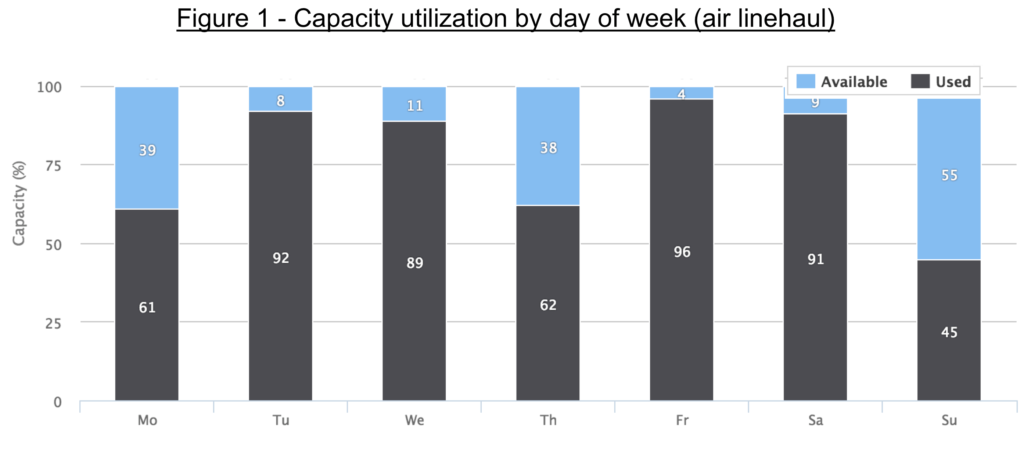 Average load factor is 76%. Capacity on Tuesday, Wednesday, Friday and Saturday is almost fully utilised (> 90%) but flights departing on Monday, Thursday and Sunday have available capacity.
Filling capacity on these days up to 90% would increase load factor by 15% and volume by 20% with no incremental costs.
Different models can support dynamic pricing:
Calendar pricing is a simple and popular model with price variation by season or day of week. Peak load pricing at Christmas would be a good example for parcel networks. Another would be to increase demand for lanes with low utilisation (e.g. empty returns in situations of capacity imbalances). However, a drawback is the risk of dilution in off-peak periods if a lower price is not off-set by incremental demand. Customers could benefit from the discount without generating additional volume. They could also retain the less time sensitive shipments until the cheapest days in the week.
Yield Management. This model avoids the previous drawbacks. Different rates for the same product (e.g. standard,incentive or premium) are proposed at the same time, but in limited quantities depending on the incremental cost of an additional unit (parcel). Figure 2 shows, in the case of an air linehaul operated by a parcel network, how the incremental cost varies depending on capacity utilisation forecast: If forecast is low (e.g. < 70%), the incremental cost is near zero and it makes sense to offer a limited volume of incentives in order to increase demand. If forecast is medium (e.g. between 70% and 100%) the sole standard rates are offered. If forecast is high (e.g. > 100%), the incremental cost converges towards the external variable cost of the resource (here the CPK cost per kg of the regular airline that is contracted to handle traffic overflow) and it makes sense to limit standard rates to a certain volume and charge a premium beyond.
Yield Management enables one to increase both volume in off-peak situations (thanks to a limited volume of incentives) and price in peak situations (thanks to a premium charged beyond a given volume of parcels).
Dynamic pricing is applicable to parcel networks with some particularities and pre-requisites.
Parcel networks have the characteristics required to apply dynamic pricing:
Fixed capacity (for linehaul, sortation and own pickup/delivery circuits);
Variation of demand by day of week and period of the year and capacity imbalances by lane;
Variation of willingness to pay and costs across customers.
They have not yet adopted dynamic pricing due to the following barriers and shortcomings:
Capacity utilisation measurement is not systematically available;
Information systems have not been designed to manage dynamic prices;
Customer contracts are only based on fixed prices.
Measuring capacity utilisation at a detailed level (by date, network point/ transportation segment) is a key pre-requisite. Obtaining this data is not trivial because capacity is multifaceted and it is necessary to define for each process the constraining factor: Weight or volumetric weight for linehaul, pieces per hour for sortation and driving time for pickup and delivery. However, getting this data is essential for network optimisation and dynamic pricing.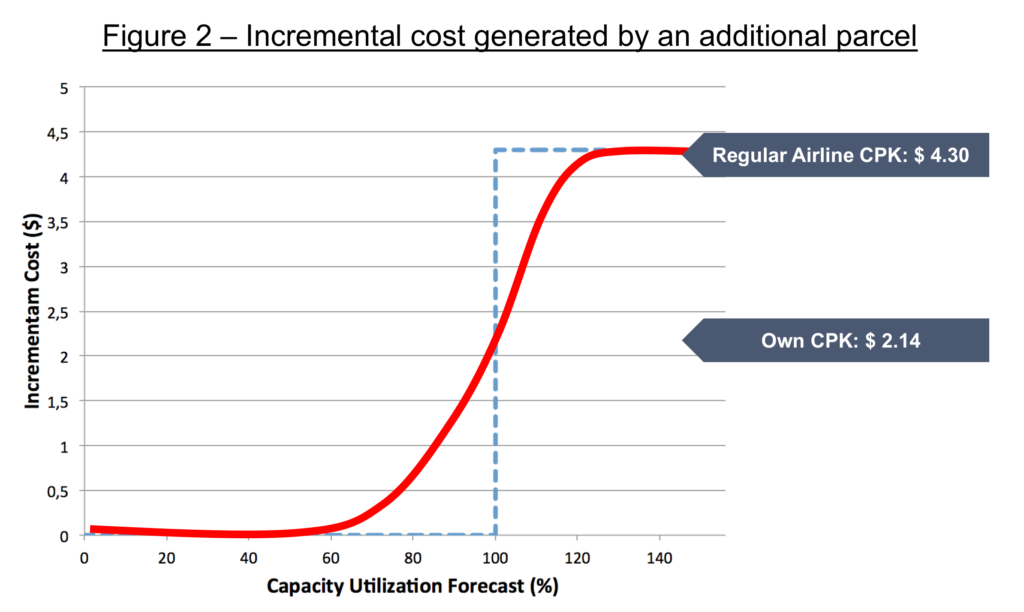 Once capacity utilisation is available, the next step is to forecast peak and off-peak situations and to calculate incremental costs for each network process (see Figure 2). The total incremental cost of an additional parcel is the sum of the incremental cost of each process (pickup, sorting, routing, and delivery).
The incremental cost can be compared with the average cost and serve as a basis to define the incentives (in low demand situations) or premium prices (in peak-load situations).
Where/when incremental cost is close enough to the average cost, only standard prices are offered. Where/when incremental cost is much lower,a volume of incentives is offered. Where/when incremental cost is significantly higher, the standard price is applicable to a limited volume of parcels and a premium is charged beyond.
On the Sales & Marketing side, dynamic pricing can be supported by different types of new offers that will not replace, but supplement the current contracted tariffs:
Targeted Incentives. Special offers limited in time and scope (e.g. "40% off to 20 destinations from 1 Jul to 30 Aug" or "20% off on Mondays and Thursdays") and targeted to selected segments (B2C Retailers, B2B Large Customers, B2B Small Customers) and selected customers/prospects within each segment. The aim will be to generate new traffic, prevent attrition, win-back lost traffic and, at the same time, avoid potential cannibalisation/dilution of the price of existing traffic.
New Contract Terms. For existing customers, access to the incentives could be conditional to a minimum revenue generated at the regular contracted tariff. So, the incentive rate could be used as a lever in price increase negotiations. The impact could be a lower average price for the customer and a better capacity utilisation, translating into a more profitable contract for the parcel network.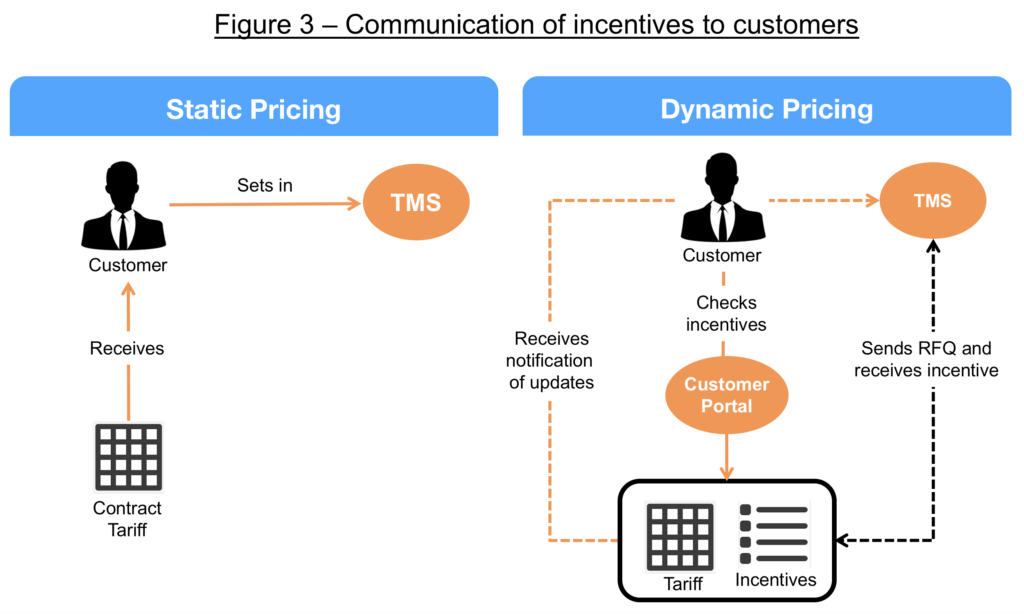 Dynamic pricing requires to adopt new technology:
Calculation of the scope, discount level and quota of incentives and identification of target customers based on Artificial Intelligence (AI);
Monitoring of contracts and communication of incentives to customers as illustrated in Figure 3.
Dynamic pricing is a key opportunity to implement flexible and yet economically viable delivery models for e-commerce.
B2C is growing more than twice as fast as B2B. Same Day Delivery is growing even faster and will represent circa 25% of total B2C parcels in the near future according to McKinsey ("Same Day Delivery: the next revolutionary step in parcel logistics"). Shoppers request shorter and flexible delivery and next day delivery is now proposed as the standard and free of charge option by retailers.
This situation questions the economic viability of B2C delivery for parcel networks that, at the same time, have new competitors: retailers on one side and courier brokers (Shutl, Tiramizoo, etc.) on the other.
A transformation of the operations models is poised to occur with a transition from fix routes to dynamic routes optimised on a daily or even instantaneous basis.
There will also be an impact on the pricing model. The application of an average price (e.g. 5€ per parcel) is no more relevant in this new context.
On one side, delivery cost depends on a variety of factors among which:
Delivery option (next day, 4 h time slot, 2 h time slot, instant delivery, pickup point, smart locker, etc.)
Pickup factor (number of parcels picked-up by a given delivery circuit at the delivery hub, warehouse or store)
Delivery density (number of parcels delivered in the same area)
On the other side, shoppers have different willingness to pay (WTP) for a given type of delivery service and their WTP is correlated to the basket amount.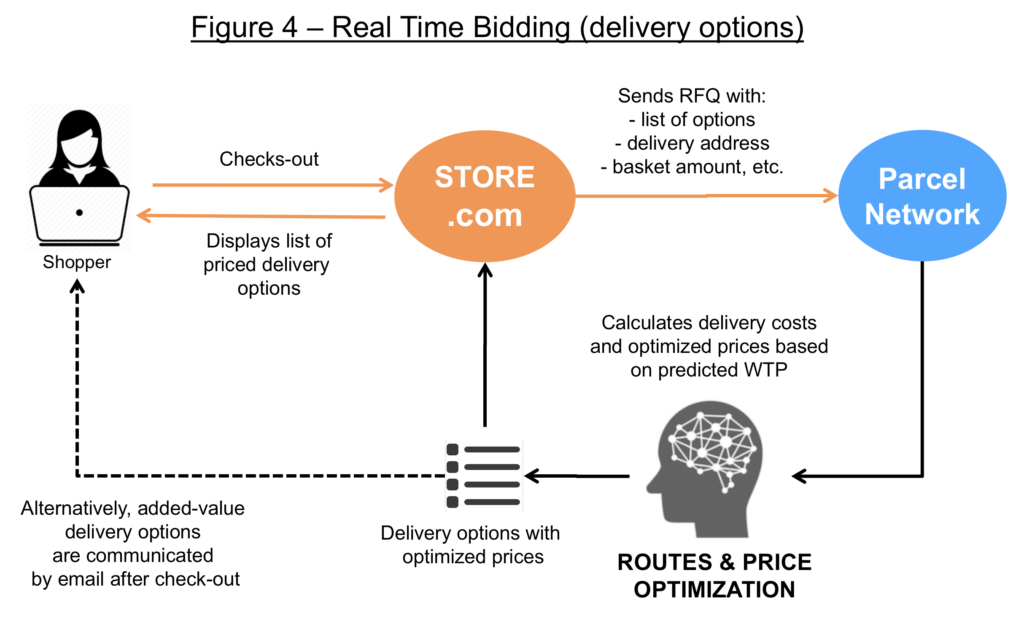 The future vision presented in Figure 4 is a dynamic pricing system that will link the retailers and their logistics partner(s) for a real-time negotiation of the price of the delivery options.
At check-out time, retailer sends to logistics partner(s) a bid request containing the date of shipment, the address of delivery (with postal code, etc.), the delivery options requested for quote (next day, instant, 4 h slot, 2 h slot, etc.) and, if agreed, relevant WTP factors such as basket amount;
The logistics partner bids in real-time with a price for each option;
The retailer selects the best bids and present them to the shopper;
The shopper selects a delivery option among the list presented by the retailer.
This process is similar even if reverse to the RTB (Real Time Bidding) process that is used in online advertising.
An alternative is the sale of a delivery upgrade by the parcel network once it receives notification of the delivery information (identity of the shopper, e-mail, address, etc.). For example: if the shopper has purchased an article with free of charge delivery for the next day without time slot specification, the partner parcel network could send an e-mail proposing added value delivery options:
Next Day Delivery (selected at check-out):free of charge
Delivered between 10:00 and 14:00: for 3€
Delivered between 08:00 and 10:00: for 5€
Etc.
These examples imply a trustful collaboration between retailers and parcel networks. They could provide the level of service expected by shoppers with economically viable solutions.
First adopters (logistics networks and retailers) will gain a key competitive advantage over their peers still applying fixed prices.
This article was originally published in the MER (Mail and Express Review)