Boost Your Pricing Power
Industry leaders have identified that Pricing Power is critical to business success. Open Pricer will help you to align with industry best practices and effectively manage the five pricing processes:
Price Setting: Are your prices in line with market, value and costs?
Deal Quote: Is your sales team executing the price policy correctly?
Price Implementation: Have you eradicated pricing errors? (e.g. charging more or less than the quoted price)
Contract Management: Are your customers correctly priced? Are they profitable? Are they complying with their commitments?
Price Increases: Are you effectively managing your rerating campaigns?
Price is the most powerful profit lever
The following graph illustrates the profit increase resulting from a 1% improvement in Variable Costs, Fixed Costs, Sales Volume or Price. As can be seen from the four case-scenarios presented, acting upon your Variable Costs will have the smallest impact on your profit. Whereas increasing Price by 1% will increase Profit by 20%.
What Our Customers Say
"Open Pricer enables DHL to respond very quickly to customers RFQs and improves significantly our pricing process thanks to more accurate and traceable pricing decision."

Mark James, Senior VP Global Pricing at DHL Express

"Open Pricer streamlined our pricing processes, enabling sales forces to produce precise and fast quotations."

Olivier Establet, Managing Director at Chronopost Portugal

"Before working with Open Pricer we used to win 10% of our quotes. Now we focus on the right customers and win 20-25% of our quotes."

Ronan Le Guilly, Pricing Manager at Geodis Ciblex
Free Download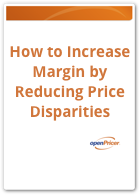 White Paper
In every company where price is negotiated, money is left on the table due to unjustified price disparities among customers.
Learn how to detect these disparities and what sales actions will help you reduce gaps and increase profit.
We help them boost their Pricing Power